​
Expressions:
A Celebration of Voices in African-American Music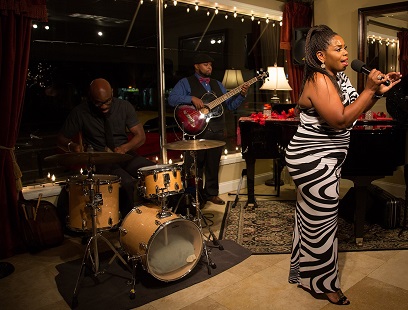 ★

Thursday, January 31, 2019 @ 7:30 p.m.

★

The Winter Park Playhouse, in collaboration with Maria Olivia Bryant Inspires, presents the second cabaret of the new quarterly series Expressions: A Celebration of Voices in African-American Music. This popular quarterly series features a variety of professional African-American musicians and artists performing in a one-hour cabaret format.
This performance will feature the vocals of Maria Olivia Bryant and be hosted by Bryant C. Pratt from The Live Poets Society, along with the Sounds of Perfection with Jarvis Brown on piano, Ezra Henry on drums, and Jason Norfleet on bass.
These cabarets have limited seating and sell out quickly so get your tickets today!
★ Mark your calendars for future Expressions performances: ★
March 28, 2019 & June 28, 2019
Streisand: Then and Now

with Carla DelVillaggio as the iconic Barbra Streisand
★

Saturday, March 9, 2019 @ 7:30 p.m.

★

As part of the One-Night-Only Series at The Playhouse, multiple award-winning Barbra Streisand tribute artist, Carla DelVillaggio, will portray the icon in her one woman show Streisand: Then and Now and will be accompanied by the Hello Gorgeous Band. The evening will showcase all of the well-known and cherished songs from the 60-year span of the legendary singer's career.

Ms. DelVillaggio has entertained accross the country from Miami to Las Vegas to New York. Carla's jaw-dropping recreation evokes the excitement and high energy vocals of Streisand's most powerful numbers, as well as the beauty and purity of sound essential for the ballads so closely associated with the legend.

Tickets are $65. Net proceeds from the evening will benefit The Playhouse's quality musical programming.
This event is currently sold out!
Please call the box office at 407-645-0145 to be added to the waitlist for this event.