Tickets now available!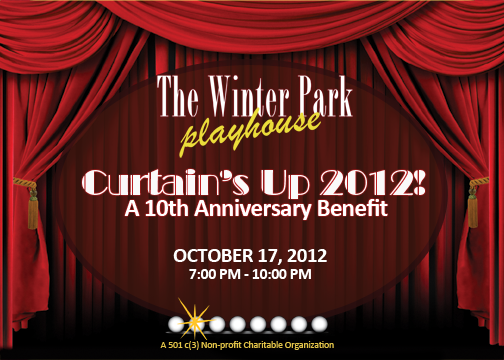 October 17, 2012
7:00-10:00PM

Join us for a spectacular evening of theatrical merriment featuring Heather Alexander, Roy Alan, Todd Allen Long, Kate Zaloumes, Kevin Kelly, Cami Miller, Shawn Kilgore, Christopher Alan Norton, Chris Leavy and more in an outstanding show, mouthwatering bites from George's Classic Creations, an open bar and an exciting live auction!
TICKETS $150
All proceeds directly support The Playhouse's year-round programs serving adults and children in our community. $100 of each ticket is a tax deductible contribution. To purchase tickets, call the box office at 407-645-0145. Seating is reserved and limited to the first 120 patrons. The Winter Park Playhouse is located at 711 Orange Avenue, Suite C Winter Park, FL 32789.